Historic Partnership Announced Between the Two Leading Community Association Advocacy Groups
The two groups formed a partnership to work together for the betterment of common interest ownership communities throughout Florida.
Orlando, FL (PRWEB) September 08, 2014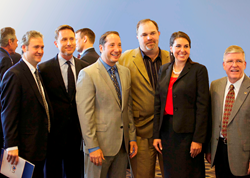 Pictured from left to right: Leigh Katzman,  Mark Anderson, Alan Garfinkel, Gary Vander Laan,  Representative-Elect Jennifer Sullivan, Frank Pelot.
Six Central Florida legislators along with more than 100 statewide community association leaders were on hand to hear the formal partnership announcement between the Community Advocacy Network (CAN) and the Chief Executive Officers of Management Companies (CEOMC). The two organizations formed a historic partnership to work for the betterment of common interest ownership communities throughout the state of Florida.
CAN is a statewide not-for-profit organization created by Katzman Garfinkel in 2007, for the purpose of educating and assisting millions of Floridians who live in community associations, while preserving their unique lifestyle.
CEOMC was established in 2008 by Tampa Bay area community association management company owners and is now the premier statewide management organization comprised of dozens of Florida's management firms. The goal of CEOMC is to promote the interests of community associations and the management profession in Florida.
"CAN and CEOMC proved during the last legislative session that working together established a singular influential voice when approaching lawmakers on issues important to our members, said attorney Alan Garfinkel, co-founder of CAN. "Today's Community Association Legislative Town Hall was an exciting opportunity for community association leaders to meet the Senators, Representatives and their staff who draft and vote on the laws that affect more than 7 million Floridians living, and serving community associations.
In attendance at the Town Hall were; Senator David Simmons, Senator Geraldine Thompson, Representative Dennis Baxley, Representative Tom Goodson, Representative Victor Torres, and newly elected Representative Jennifer Sullivan.
Representative Baxley said, "I'm very grateful for the progress made on behalf of Floridians living in Community Associations by residents and mangers partnering together. Speaking with one voice will make a clearer imprint with legislators."
For more information on the partnership or if you are interested in joining CAN, call 1-855-226-8477 or email information@canfl.com.